University mourns death of alumnus, trustee Rhoads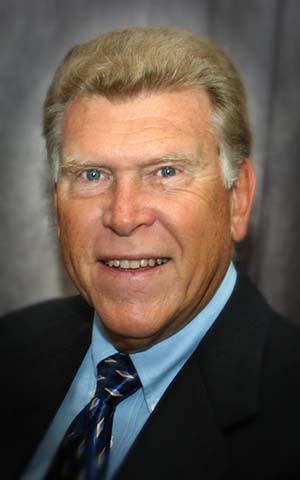 Trine University is mourning the loss of Mitchel Rhoads, an alumnus and member of the university's Board of Trustees.
Rhoads passed away Monday, Jan. 10, following a battle with cancer.
"Mitch demonstrated not only excellence in providing leadership to his businesses and Trine University, but sincere caring and personal interest in the lives and welfare of others," said Earl D. Brooks II, Ph.D., Trine University president. "He went above and beyond to support Trine University and its students. His friendship will be deeply missed."
After graduating from what was then Tri-State College in 1966 with a Bachelor of Science in business administration, Rhoads took a job with Kaiser Steel and Gulf Oil Co. before serving three years with the U.S. Navy in Vietnam.
After completing his military service, Rhoads went to work in the restaurant industry, first with the Collins Foods International Franchise of Kentucky Fried Chicken in southern California. He stayed with Collins Foods KFC and Sizzler Family Steakhouses, working as a foreign supervisor in Australia, until A&W Root Beer hired him as vice president of operations at age 29.
He went on to serve as executive vice president of worldwide operations for Burger King, president of Technicolor Corporation retail division, and a court-appointed trustee of International House of Pancakes. He was named Food Service Executive of the Year in 1987.
In 1992, Rhoads purchased LePeep, a once–struggling breakfast–brunch–lunch restaurant in Denver, Colorado. Today, LePeep restaurants are in 13 states and thriving.
"My grandmother's commitment to excellence stands out to me the most," Rhoads said. "If you don't have high standards for customer service, then you don′t have much."
He joined the Trine University Board of Trustees in 2006, most recently serving on the Campus Planning Committee and Committee on Trustees.
He and his wife Debra donated funding for naming rights to a private suite in the Fred Zollner Athletic Stadium and the Rhoads Center for Entrepreneurship in the Ketner School of Business. He also was a speaker in the university's Distinguished Speaker Series. In 2008, he was recognized with the Distinguished Service Alumni award for his outstanding service to society, his profession, and to his alma mater.
A Kappa Sigma brother while a student at Trine, Rhoads remained involved with the fraternity long after he graduated.
In addition to his service at Trine, Rhoads, along with his wife, were board members for the Community Humane Shelter of Steuben County for many years. He also served as chairman of the Colorado State Chamber of Commerce Education Foundation, chairman of the Colorado Art Foundation and chairman of the KRMA (Denver PBS) Business Connection. He was one of 250 invited members of the National Republican Senatorial Committee's Republican Presidential Roundtable.
Last Updated: 01/12/2022